The Yahoo KasimSulton Mailing List is a moderated list, purely for news about Kasim (television appearances, concerts, etc) with weekly news of his activities when he's touring - the oldest running active Kasim Sulton mailing list!
If you'd like to be notified by e-mail of all updates to KasimInfo.com, then join the Yahoo KasimInfo Mailing List. E-mails are sent to that list whenever the site is updated.
KasimInfo Site Blog
Blog 99 (02/19/06 - 02/26/06)
Please note that, as time goes by, some of these external links may no longer work - sorry! If you don't know what a Blog is click here
Sunday 26th February 2006
Kasim and The New Cars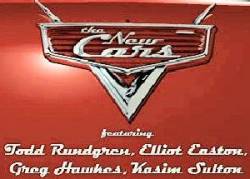 15.00 - Logos for The New Cars Tour have been "found" on both the Tommy Hilfiger at Jones Beach in Wantagh, NY and the PNC Bank Arts Center in Holmdel, NJ venues saying that they will be playing there in 2006!

Tommy Hilfiger at Jones Beach is an open air amphitheater which seats 10,500 or 14,400 people depending on which website you view! Kasim Sulton played there last year on the Meat Loaf Hair Of The Dog Tour and tickets for that concert varied from $20 to $60 (plus charges) depending on whether the seat was allocated or lawn so presumably tickets for The New Cars will be similarly priced. This website says that tickets for all concerts at this venue will go on sale on Saturday 8th May at 9.00am.

The PNC Bank Arts Center amphitheatre accommodates 17,500 guests and features both reserved and general admission seating. There are 7,000 comfortable theatre-style seats in the open-air pavilion and room for another 10,500 fans on the lawn.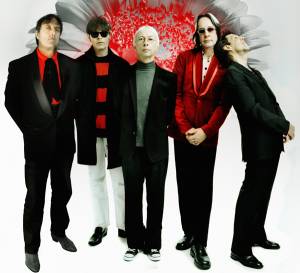 Kasim and The New Cars
11.00 - Although Prairie Prince played at all three of The New Cars show-case gigs in January and he told fans while he was touring as part of The Tubes that he would be a member of the band, there have been some mumblings amongst fans as he didn't appear in any of the (unreleased) promo photos of the band that were found on the 10th Street servers (see this Blog entry of 9.30am on Saturday 28th January'06 about the photos although they are no longer on the public part of the servers).

However, on Wednesday they added another photo to the servers which does show Prairie Prince as part of the band. (In fact they used their old photo #43 and just tacked Prairie on to the side but it does show that he'll be a member of the band!)
Saturday 25th February 2006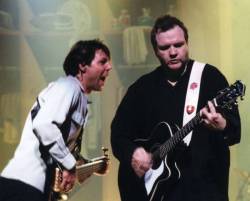 Photos of Kasim with Meat Loaf
03.15 - There are some photos of Kasim Sulton at the Meat Loaf Hair Of The Dog Tour concert on 20th August 2005 in Lima, Ohio at this link. There are only photos of Kasim on page one of the three.

Many thanks to Stephanie Regan for this link.
Friday 24th February 2006

Kasim on The Tonight Show With Jay Leno
02.45 - On Tuesday 14th March Kasim Sulton will be appearing on The Tonight Show With Jay Leno as part of The New Cars. This program is recorded in Burbank, California (not far from where the show-case gigs were played in January) in front of a live audience. Tickets for the recording are free and can be obtained by snailmail at:
The Tonight Show with Jay Leno/Tickets
3000 W. Alameda Ave.
Burbank, CA 91523

Those interested in attending have to send a self-addressed stamped envelope listing the desired date of taping but they also say that they need three alternate dates! You can request up to four tickets, but seating is limited and audience members must be at least 16 years old. All mail requests are processed on a first come, first-served basis but they also say that mail requests should be submitted at least 6 weeks in advance - the taping is in less than four weeks!

Another alternative is to queue at the above address on the day of the show. The Ticket Box opens at 8.00 a.m. each day and all available tickets are distributed to the public on a first come, first-served two tickets per person basis. Be aware that some people start to queue very early for tickets!

However, just having a ticket for the show is no guarantee that you'll get in to the taping as television studios always issue more tickets than there are seats and entrance to the theater is strictly on a first come, first served basis. Consequently some people start to queue very early for the taping too!

The show generally tapes from 4.30pm (PST) and takes approximately one hour. They do stress that you cannot arrive later than 3.15pm and expect to get in.

This is the official website for The Tonight Show With Jay Leno.

Previously in an online chat Kasim has says that he prefers The Tonight Show With Jay Leno over The Late Show with David Letterman - the reason Kasim gave was because they record it in Los Angeles!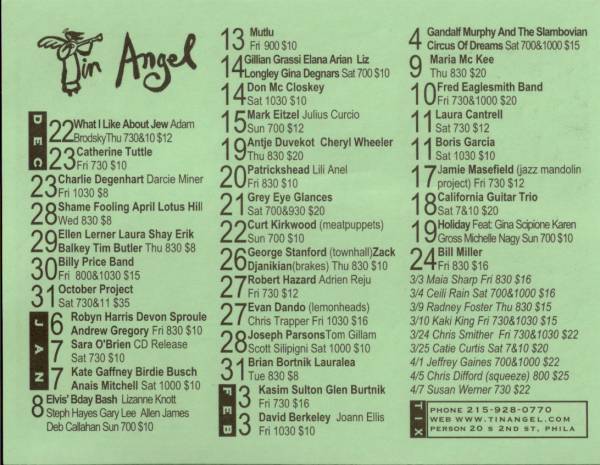 The table flyer at The Tin Angel
(Kasim is listed at the bottom of the middle column)
Thursday 23rd February 2006
Kasim and The New Cars
16.15 - As it's difficult for those on dial-up to listen to the podcast by Elliot Easton on RockAndRollGeekShow.com, the main things he mentions are (some of these have been mentioned previously on KasimInfo.com):

The New Cars will be on The Tonight Show With Jay Leno on 14th March

The New Cars new single (Not Tonight or But Not Tonight) will be released on 14th March. This song was written by Todd Rundgren and Elliot Easton

Also on Tuesday 14th March The New Cars tour will be announced

There will be a new CD or DVD release and it'll contain bonus tracks of live performances that were recorded at Burbank in January (the sound fades at this point so it's hard to make out what he's saying)

When Elliot takes questions from the audience, the first question is to ask if Todd sings all the songs that Benjamin Orr used to sing on stage. Elliot explains that Kasim sings Drive (and people in the audience clearly know his name as they mention Utopia!). Elliot then says that Kasim "has a beautiful, sweet voice and does an amazing job on it"!

KasimInfo.com
16.00 - The News section of the site has been brought up to date.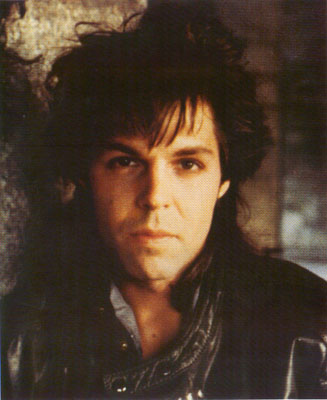 Kasim and Joan Jett
11.00 - There's a Biography section about Kasim Sulton on the Joan Jett and The Blackhearts Bad Reputation website (it's towards the bottom of the page) which includes a couple of facts that I certainly didn't know about him! It lists his date of birth incorrectly but the "new to me" items are:
Favorite movies: Fahrenheit 451 and THX 1138
Favorite TV show: "L.A. Law" and "Married with Children"
Favorite actors: Robert DiNero and James Stewart
Favorite actress: Marlene Deitrich and Debra Winger
The website also lists Kasim's favorite albums, artists and Joan Jett songs, plus it lists Kasim's hobbies as "Cooking and writing".

Kasim's future ambitions are revealing as he says "Writing and producing for myself and various other artists" and he has a lovely message to his fans: "Thanks for all your support and keep rockin'!!!!!"

Elsewhere on the website is a photo of Kasim as part of The Blackhearts which I haven't ever seen before on the Internet.

Many thanks to Stephanie Regan for these links.

Kasim and The New Cars
02.30 - The KonoctiHarbor.com website has been updated to show that The New Cars concert there on 27th May will be held at the outdoor venue - the Konocti Field Amphitheater. This is the larger venue at the resort and seats 5,000 fans (all are within 200 feet of the stage). As it is at this venue, other than Premier Seating, fans are not required to purchase dinner in order to get a good seat. Tickets go on sale on Saturday 18th March at 10.00am PST.

The tour will officially be announced on Tuesday 14th March but so far fans have reported on various mailing lists and messageboards rumors about concerts in New York City, Hartford, Connecticut and Miami, Florida!
Wednesday 22nd February 2006
KasimInfo.com
15.00 - Regular readers of this website will know that KasimInfo.com is updated most days and often a few times in a day. Consequently to save people having to keep check the website, a new mailing list has been set up which will notify members each time the website is updated. It's at http://groups.yahoo.com/group/KasimInfo and you need a Yahoo ID to join. Just be aware that it may result in several messages in one day when new gigs are announced and when Kasim Sulton is on the road!

Just a reminder that if you want a mailing list for news about Kasim, then the Yahoo KasimSulton Mailing List will be your best choice. It's a moderated list, purely for news about Kasim (news, television appearances, concerts, etc) with weekly news of his activities when he's touring and is the oldest running active Kasim Sulton mailing list!
Tuesday 21st February 2006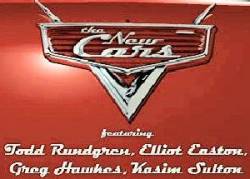 Kasim Television Appearance
01.45 - According to a podcast by Elliot Easton here on RockAndRollGeekShow.com The New Cars will be making an appearance on The Jay Leno Show on Tuesday 14th March when they'll also announce their tour and play their new single But Not Tonight!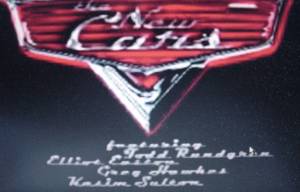 Kasim and The New Cars
01.15 - Candlebright.net (the Stevie Nicks website) have added a page about The New Cars which includes a photo of Kasim Sulton and a nice quote about Kasim singing Drive at the preview gigs.

(Kasim has long been one of Candlebright.net's featured artists! Click here to view his page on the website.)
Monday 20th February 2006

Kasim and The New Cars
18.00 - There's an interesting page now about the rumors regarding The New Cars on DeaconLight.com. They link to several reports about the band but they mistakenly list some tour dates from KasimSulton.com as being possible tour dates for The New Cars when in fact they were gigs that Kasim played on The Liars Tour back in 2004! It still makes a good read as it lists all the various rumors in one place.

Many thanks to Michele for posting this link.
Kasim on E-Bay
12.30 - Currently on E-Bay.com here there is a copy of Lights On on audio cassette. The opening bid is on $0.99, there are no bids so far and the auction ends on Wednesday.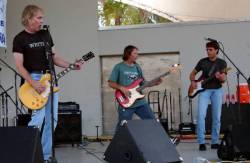 Kasim at Toys In The Park
03.15 - Some photos of Kasim Sulton at Toys In The Park have been added here.

Many thanks to The Livesays and Joe Lopez for these photos.
Sunday 19th February 2006
KasimInfo.com
16.00 - Earlier items from this Blog page have been moved to a new page (so that this page loads faster). The link is at the bottom of this page.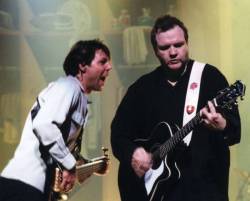 Kasim and the aircraft incident
12.15 - The full report into the incident on 29th June 2005 has been produced here at the Air Accidents Investigation. It goes on for 11 pages but it's an interesting read and will probably make people move more willingly when asked to by cabin staff in the future!

The incident involved a bad landing at Manchester Airport when Kasim was returning with Meat Loaf and the rest of the band from a gig in Hamburg, Germany. Kasim recounted what happened in his online journal here.
Kasim Sulton's January 2006
03.45 - Here is an analysis of Kasim Sulton's January 2006 (compared to January 2005 and 2004):
2004
2005
Appearance
2006
-
-
The New Cars
3
8
(Opening sets)
-
Kasim - solo
-
9
-
Meat Loaf
-
-
4
Movin' Out
-
-
1
Patty Smyth
-
1
-
Online Chat
-
18
5
Totals
3
Most of Kasim Sulton's work in January 2006 was in the Los Angeles, CA area. As well as rehearsing and playing the three New Cars show-case gigs, he also recorded more background vocals for the forthcoming Meat Loaf album Bat Out Of Hell 3: The Final At Bat.
In 2005 Kasim Sulton spent almost a week in Florida working on Rick Reynolds' album Unstoppable as well as making some appearances in Movin' Out on Broadway in New York and playing his first gig as part of Patty Smyth and Scandal in Hartford, Connecticut.
2004 was only just over a week old when Kasim made his first trip abroad as he flew to Britain for 10 Meat Loaf concerts (one of which was cancelled) in Wales, England and Scotland. Kasim played opening sets at eight of these concerts plus he held an online chat from his hotel room in London, England.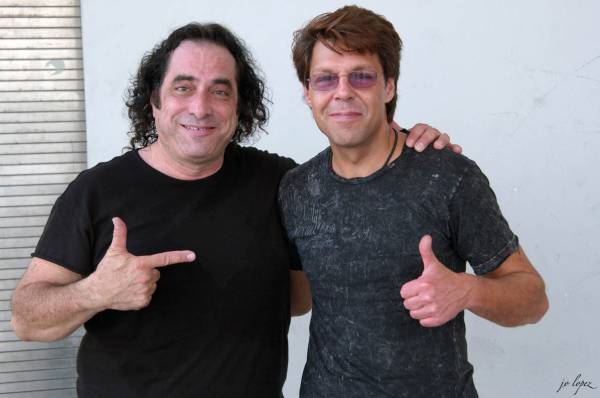 Kasim Sulton backstage at Toys In The Park in December last year with Eddie Zyne (drummer with The Livesays).
Eddie has toured with Hall and Oates, Desmond Childs and Rouge, The Monkees, Rick Derringer and Foghat.
Photo by Joe Lopez.
Blog 98 (02/10/06 - 02/18/06)
Previous Blogs - [10th to 18th Feb] [30th Jan to 9th Feb] [16th to 29th Jan] [4th to 14th Jan] [11th Dec 2005 to 3rd Jan 2006]
2005 - [4th to 10th Dec] [20th Nov to 3rd Dec] [8th to 19th Nov] [23rd Oct to 7th Nov] [3rd to 23rd Oct] [20th Sept to 2nd Oct] [5th to 19th Sept] [17th August to 4th Sept] [11th to 17th August] [17th July to 10th August] [4th to 16th July] [27th June to 3rd July] [29th May to 26th June] [16th April to 28th May] [4th to 15th April] [7th Mar to 3rd April] [12th Feb to 6th Mar] [24th Jan to 11th Feb] [30th Dec 2004 to 23rd Jan 2005]
2004 - [18th Nov to 29th Dec] [28th Oct to 17th Nov] [6th to 27th Oct] [11th Sep to 5th Oct] [8th Aug to 10th Sep] [4th July to 7th August] [24th May to 3rd July] [4th to 24th May] [19th Apr to 3rd May] [7th to 18th Apr] [15th Mar to 6th Apr] [20th Feb to 14th Mar] [4th to 19th Feb] [18th Jan to 3rd Feb] [8th to 17th Jan]
2003 - [22nd Dec 2003 to 7th Jan 2004] [4th to 21st Dec] [13th Nov to 3rd Dec] [19th Oct to 12th Nov] [29th Sep to 18th Oct] [4th to 28th Sep] [7th Aug to 3rd Sep] [16th Jul to 6th Aug] [23rd Jun to 15th Jul] [30th May to 22nd Jun] [5th to 29th May] [18th Apr to 4th May] [4th to 17th Apr] [25th Mar to 3rd Apr] [25th Feb to 24th Mar] [17th to 24th Feb] [3rd to 16th Feb] [13th Jan to 2nd Feb] [1st to 12th Jan]
2002 - [7th to 31st Dec] [27th Nov to 6th Dec] [8th to 26th Nov] [22nd Oct to 7th Nov] [7th to 21st Oct] [24th Sept to 6th Oct] [10th to 23rd Sept] [22nd Aug to 9th Sept] [3rd to 21st Aug] [19th July to 2nd Aug] [4th to 18th July] [20th June to 3rd July] [1st to 19th June] [10th to 31st May] [21st Apr to 9th May] [4th to 20th April] [15th Mar to 3rd Apr] [2nd to 14th Mar] [21st Feb to 1st Mar] [13th to 20th Feb] [5th to 12th Feb] [26th Dec to 4th Feb]
2001 - [8th to 25th Dec] [21st Nov to 7th Dec] [5th to 20th Nov] [30th Sept to 4th Nov] [13th to 29th Sept] [28th Aug to 12th Sept] [4th to 27th Aug] [27th July to 3rd Aug] [13th to 26th July] [27th June to 12th July] [30th May to 26th June] [3rd to 29th May] [13th April to 2nd May] [1st to 12th April] [12th to 31st March] [18th Feb to 11th March] [2nd to 17th Feb] [1st Jan to 1st Feb]