The Yahoo KasimSulton Mailing List is a moderated list, purely for news about Kasim (television appearances, concerts, etc) with weekly news of his activities when he's touring - the oldest running active Kasim Sulton mailing list!
KasimInfo Site Blog
Blog 97 (01/30/06 - 02/09/06)
Please note that, as time goes by, some of these external links may no longer work - sorry! If you don't know what a Blog is click here
Thursday 9th February 2006
Official Kasim Sulton Merchandise
17.30 - CafePress.com (the only website which stocks official Kasim Sulton merchandise) currently has a "Last chance for love - savings on Valentine's Day" promotion until Tuesday 14th February.
For $5 off orders of $50 or more, quote the code "CUPID5" and for $10 off orders of $100 or more, quote the code "CUPID10".


(Please note that KasimInfo.com is not affiliated in any way with CafePress.com and makes no commission from any purchases made on the website.)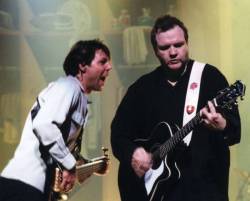 Kasim and Bat Out Of Hell III
02.15 - Kasim Sulton confirmed last week at his gig at The Tin Angel that he was involved in more recording of Bat Out Of Hell 3 in Los Angeles at the end of January (the rumored dates were Thursday 26th to Sunday 29th January).

Kasim also said on stage that he was recording background vocals with Eric Troyer and Storm. During November and December 2005 Kasim recorded background vocals with Eric Troyer and Todd Rundgren but Kasim made no mention of Todd being at this session on stage on Friday.

Eric Troyer sung background vocals on the 1993 release Bat Out Of Hell II - Back Into Hell and I think it's safe to say that Storm is known in music business circles as Bat Out Of Hell III's producer Desmond Childs' "protégé".
Wednesday 8th February 2006
Kasim Sulton on E-Bay
14.00 - Currently on E-Bay.com here there is a copy of Kasim Sulton's first solo album Kasim available. The opening price is $6.57, there are no bids so far and the auction ends on Sunday.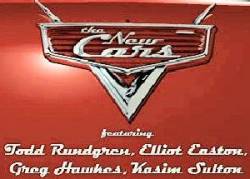 Kasim and The New Cars
02.30 - According to posts on one of the Kasim Sulton mailing lists (which is available to non-members of the list to view), an employee of The Borgata casino in Atlantic City, NJ was telling fans at Kasim's solo gig in Philadelphia last Friday that a date at that casino has been placed "on hold" for The New Cars in June! Tickets at that venue vary in price (depending on the artist) from $25 to $59.50 and usually gigs are only played at the weekends. Currently their calendar only lists gigs up to 27th May. The Borgata holds about 3,700 fans.
Another post said that Kasim told fans at his gig that The New Cars tour is expected to start in May and to continue until the end of the year.
KasimInfo.com
02.15 - As it's nearing Valentine's Day, the banners on the front page of the website now are based on that theme!

Tuesday 7th February 2006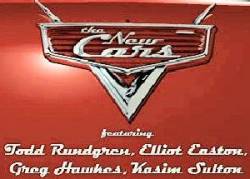 Kasim and The New Cars
17.30 - Photos of The New Cars' second showcase gig on Friday 20th January have been added to the new(!) New Cars Tour page here or click here for the direct link.

Many thanks to Marilyn for all the photos on the page.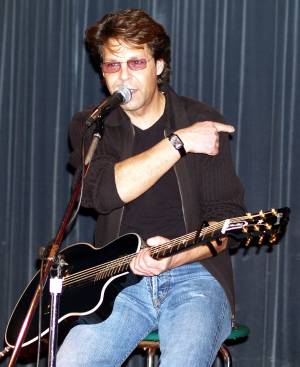 Kasim's Gig at The Tin Angel
12.15 - There some photos of Kasim Sulton at his gig at The Tin Angel last Friday in this thread on the messageboard attached to GlenBurtnik.com. The website owner also says that she will be adding some videoclips of Kasim's set to the site soon too!

(Many thanks to Gary "Goat" Goveia for the photo on the left here taken during Kasim's set - more photos from this set to be added to this site soon!)

09.00 - Last Thursday a Blog on MercuryNews.com wrote an interesting article called "How Much Would You Pay To See Blondie And The Cars (With Todd Rundgren Playing Ric Ocasek)?". The article includes the phrases "That's one of the questions national concert promoters are pondering right now, as they book a Blondie summer season" and "I've had reps from both big Bay Area promoters scratching their heads over this one. What's it worth? What will it draw? How many people would really want to see it? And is it worth the big money the bands are asking? What say you, oh faithful rock lovers? Is this a nostalgia act that thrills you and could fill an arena? Or is it no bigger than the clubs that either band last played in?"

Below the article lots of fans have posted their feelings about the unconfirmed collaboration of a tour with the two bands which makes an interesting read. Comments include:
"I would pay up to $60. I have not seen The Cars but even in their heyday I heard that it was a rather boring concert. I have seen Blondie lots of times and their shows of the late 90's and of late are better than their heyday shows, which is not saying much but they have a tight sound. I think that The Cars would HAVE to be the opening band, especially in LA, SF and NY."
"I'm excited about a Cars tour and would be even more if Ric / Elliot / Greg / David got together to record a new album. That band made some great music. I'd pay to see them again."
"I'd pay big money to see Todd Rundgren anywhere, anytime. The fans of The Cars will be in for a treat with Todd at the helm. The only reason I would see The Cars is because of Todd."
"I would have to think long and hard before I'd see The Cars without Ric Ocasek."
"As long as Todd, Kasim and Prarie are playing.. I'd pay anything"
"I am quite excited about this upcoming tour with the "New Cars", anything Todd Rundgren is involved in will be first class all the way, and my understanding is that Todd is not trying to replace Ric in any-way but instead while staying true to the original music the shows will have Todd's signature on them, pleasing both the faithful Cars fans as well as Todd's own fans. Ric has stated he does not want to tour with The Cars so while this lineup is a bit diverse from the original this promises to be a great blending of great talents well worth seeing. I figured with Blondie along for the ride the shows would appear in smaller arena or shed type venues capable of holding 2,000 to 4,000 fans and I think keeping the ticket price reasonable will help get all curious fans to these shows. I personally cannot wait!"
"I'd go see them - I'm a huge Cars fan and it's more of them than I ever got to see during their heyday. Todd R. and Blondie would be the icing on the cake!"
"Would pay a lot to see Greg & Elliot jam. Kasim Sulton and Prairie Prince are also top notch. Don't know about Blondie or Rundgren. The Cars just had such great music, period."
"The Cars w/o Ric and Ben is like seeing Zepplin w/o Plant and Paige. It's getting dangeriously close to being a tribute band. I might pay $30-40 to see the bill w/Blondie, but I guessing they're going to want to milk all of us aging yuppies for $75, and it the result will be lots of 1/3 full venues and a tour that has the # of dates cut back midway through."
"If they play 2,000-3,000 seat theaters and charge no more than $60, I think it would be a success. If they try to book large amphitheaters or arenas, it could be an embarrassment."
"I'm from Michigan and my 19 yr. old son and I went to California in 2004 to catch four "Todd Rundgren & the Liars" shows with Kasim Sulton. How much would I spend? I figure that one week with airfare, hotels, rental cars, food, tickets, housesitter I must have spent at least $5000. Best musician the U.S. has to offer."
"I'd spend $100 for a ticket."
"I usually can't afford much. If I had it to spend, $75 might seem resonable. I'm hoping for $50."
"I would pay $50.00 to see them again. I have no interest in seeing The Cars without their original lead singer. I will see the show, but will not be there for The Cars portions, only Blondie's. Also, I hope that since it's a double bill show, Blondie does not shorten their 90+ minute set. My idea is to have The Cars open for Blondie, and maybe do about 7 songs."
"I have no problem paying for tickets. 75.$ tops seems reasonable for good seats. I would rather somone else play than Blondie but I'm game for a few shows"
"I would pay anywhere between 50-100 dollars for a reasonable ticket."
"I might pay $40.00-$50.00 to check out Blondie and The Cars."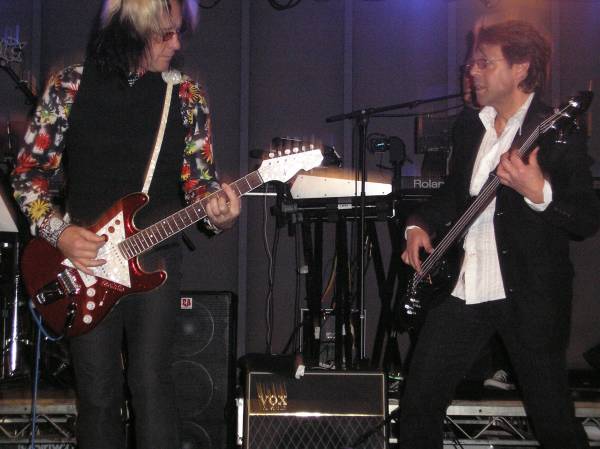 Kasim Sulton with Todd Rundgren at the second of the three Cars show-cases on Friday 20th January
Many thanks to Marilyn for this photo.
(More photos of the band at this gig will be added soon)
Saturday 4th February 2006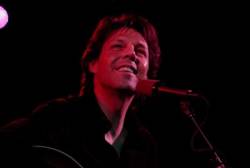 Kasim's Solo Gig
13.00 - The set list for Kasim Sulton's set at The Tin Angel in Philadelphia, PA last night was:
Somebody Loves You
Sometimes Love Is A Dangerous Thing
Before She Was Gone
Libertine
There Goes My Inspiration
Drive
Cliche
Don't Hold Me Back
Sacrifice

With others Kasim also sang:
I Don't Want To Spoil The Party
Cathy's Clown
Friday 3rd February 2006 - tonight Kasim Sulton will be playing a solo gig at The Tin Angel in Philadelphia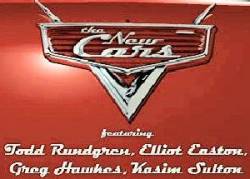 Kasim and The New Cars
00.30 - A review and some comments about The New Cars gig which Kasim Sulton played in Burbank, CA on Sunday 22nd has been added to the Gigs section of the site or click here for the direct link.
Kasim's Solo Gig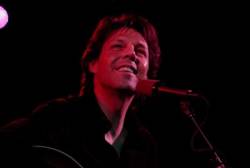 00.15 - Tonight Kasim Sulton makes his fourth appearance at The Tin Angel in Philadelphia, PA when he plays a co-bill with Glen Burtnik. This link has more info about the gig tonight.

Kasim's first gig at The Tin Angel was on Wednesday 15th August 2001. Despite Kasim having a bad throat most fans who attended agree that this was a great gig as Kasim's patter was brilliant that night! This was also Doug Kennedy's first gig playing on stage with Kasim as he joined him for There Goes My Inspiration, It Wouldn't Have Made Any Difference, One World and This Must Be Love.

Kasim's next appearance at The Tin Angel was on Friday 1st March 2002. This was a gig when Kasim didn't have a set list so the gig had a nice relaxed feel about it!

Kasim's third gig at The Tin Angel was on Sunday 22nd September 2002 and was on an evening when The Rolling Stones were playing in Philadelphia so Kasim sung a great version of Brown Sugar to celebrate the fact.

The Tin Angel opened in 1992 and is described as "a unique music venue featuring a wide variety of top flight national and local attractions in an intimate cafe style setting. In addition to excellent acoustic and other "unplugged" entertainment, Tin Angel offers candle lit table seating, great coffees, cappuccinos, teas and desserts, as well as a complete selection of liquors, wines, beers and mineral waters." The venue is above The Serrano restaurant which opened in 1985. The restaurant serves "international fare at neighborhood prices" and only by eating there can you reserve a seat in the venue upstairs.

It's a shame that Kasim will only be playing half a set tonight as usually he has the whole 90 minutes to himself (in 2001 Kasim played 12 songs, in March 2002 Kasim played 14 songs and in September 2002 he played 16 songs), especially as fans are travelling from all over US to see the gig (and some from Europe too). Other than Kasim's appearance at GuitarFest last October (when Kasim only sang six songs), this will be his first solo appearance in US for almost two years.

Thankfully Kasim said late last year that he will be "touring solo this year for sure"!
Thursday 2nd February 2006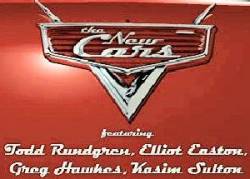 Kasim and The New Cars
17.45 - Two new websites have been opened recently about The New Cars.

TheNewCars.com is run by Paid, Inc (see this Blog entry for Tuesday 20th December 2005 for more info about the company) and is listed as "The New Cars Official Fanclub Website". Currently there is just a promo video and a sign-up box to join a mailing list.

TheNewCars.net is a fan run website with one of the 10th Street photos of the band (including Kasim!) on the front page. There are also links to other pages including some photos of Todd Rundgren that were taken at the second of the gigs in Burbank a couple of weeks ago.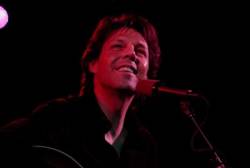 Kasim's Solo Gig
15.30 - Nicole Pensiero has written a blurb on CityPaper.net about Kasim's gig tomorrow night at The Tin Angel in Philadelphia.
As it will disappear after the event it says:
"Kasim Sulton / Glen Burtnik
The high-profile acts that popmeister pals Kasim Sulton and Glen Burtnik have played with read like a rock star Who's Who list: Todd Rundgren, Meat Loaf and Patti Smith for Sulton; Styx, Springsteen and Bon Jovi for Burtnik. Yet these two have remained word-of-mouth favorites with small but fervent followings of their own. Now's your chance to catch multi-instrumentalist Kasim before he heads off (with Runt) to tour as the new incarnation of The Cars. Both he and Burtnik will do solo sets and share the stage for one or more of the songs they've written together over the years."
(So all those fans who were planning to leave at the end of Kasim's set will have to rethink their plans!)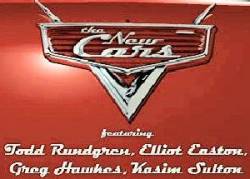 Kasim and The New Cars
01.30 - Live Nation - NYC Area Concerts have a very small graphic attached to a video clip of The New Cars logo with the words "Coming Summer 2006"! (It's about halfway down on the left hand side of the page.)

Many thanks to the kind person who sent me this link.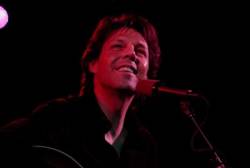 Kasim's Solo Gig
01.00 - ZWire.com now list Kasim Sulton's gig on Friday at The Tin Angel amongst their listings. (Unfortunately they spell his surname as "Sultan"!)

The two acts playing the second show at the venue are David Berkeley and Joann Ellis. In order to see them there is an additional $10 charge.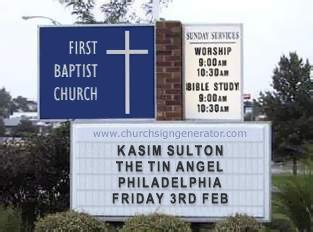 Many thanks to Doug Kennedy for this link!
Wednesday 1st February 2006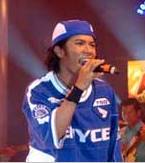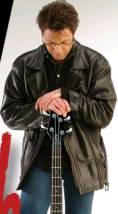 15.15 - Of course we all knew that!

However, this article on Vietnam News claims it is someone called Kasim Hoang Vu who was voted most fashionable artist by the Viet Nam Fashion Design Institute.

Apparently Kasim Hoang Vu co-won the Sao Mai – Diem Hen (Morning Star Rendezvous) music contest in September 2004 and sings rock and hip-hop. He is 26 years old.

(Personally I think the Kasim on the right is more fashionable than the Kasim on the left!)
Kasim's Solo Gig
02.30 - PhiladelphiaCitySearch.com now list Kasim Sulton's gig on Friday at The Tin Angel amongst their listings.
Tuesday 31st January 2006
Kasim Mailing
15.45 - The Kasim Mailing thread on the messageboard attached to TRConnection.com (which started about Kasim's message to his mailing list about the show-cases) is now on it's 14th page (that's over 300 posts!) and has had over 10,000 views!
Kasim and The New Cars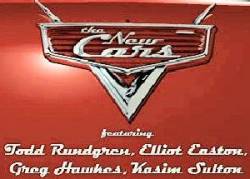 01.15 - As the 'events' are over, I don't think it's disrespectful to name the venues for The New Cars showcases (in fact both have already been named on some mailing lists).

Originally these gigs were going to be performed at SIR (Studio Instrument Rentals) on Sunset Boulevard, Hollywood. The website for this venue is at http://www.sirla.com. The website says that it "features a unique 35,000 square foot facility" and has 7 stages which vary in size with the largest being 40' x 38' - that stage is 20' x 38' x 18").

At some point the week before last the 'events' were moved to Center Staging (also known as Rehearsal.com) in Burbank. The website for this venue is at http://centerstaging.com.

This link is a good diagram of the area as everyone was booked in and waited in Studio 2 before we walked across the road to where the 'event' itself took place (I think it was either in Studio 8 or Studio 10 but they both have the same dimensions of 60' by 38' - click the graphic to see photos).

No official reason has been posted about why the venue was changed but unfortunately it seems that at least one person wasn't told of the change and went to the wrong venue. It's sad that that person was Brett Milano who was a big supporter of Utopia and wrote the liner notes to Oblivion, POV And Some Trivia amongst other work.
Kasim Sulton February 2006 Calendar
Click here to download a copy to print
(Larger than calendar above)
Monday 30th January 2006
E-mail from Kasim
16.45 - Somebody posted this past weekend on a Cars mailing list an e-mail that Kasim Sulton had sent her in response to a note she sent about his bass playing in The New Cars. Part of it included:
"While I didn't know Ben well (we met a few times over the years), I respected and admired him for his talent.
Standing in for him in this new project is both humbling and exhilarating. It's only after having to pick his Bass parts out note for note that I realized they were a lot more complicated than I first thought.
While most people listen to a song as a complete piece of! work, Ben, Elliot and Greg's contributions are just as important and vital to each songs credibility as the chords, melodies and lyrics are.
I can only hope that fans like yourself allow me the chance to prove my ability in doing justice to Ben's memory."

Many thanks to Vikki for permission to quote part of her e-mail.
Liars DVD
01.00 - Todd Rundgren's latest DVD Todd Rundgren's Liars Live is released today in the UK. It is released on Sanctuary Visual Entertainment UK and Kasim Sulton plays bass and sings background vocals on almost every track.

There is also 40 minutes of bonus footage which includes Kasim singing This Must Be Love at the Japanese One World Party in Tokyo on 25th October 2004.

Kasim toured the US, Europe and Japan as part of The Liars from April until October 2004.

Click the above graphic to be taken to a PR page about the DVD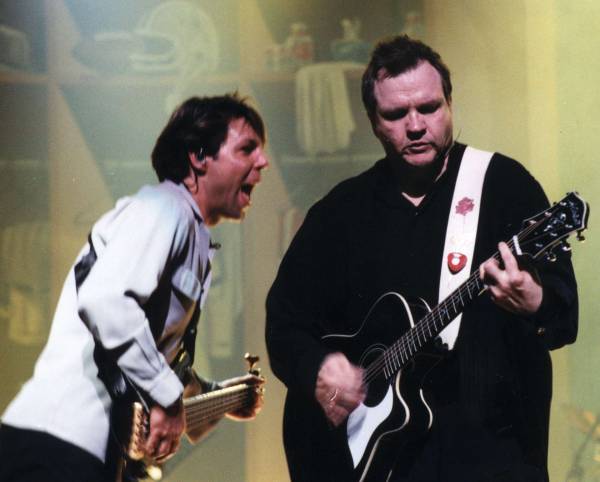 "You're supposed to be singing, not playing now!!"
Blog 96 (01/16/06 - 01/29/06)
Previous Blogs - [16th to 29th Jan] [4th to 14th Jan] [11th Dec 2005 to 3rd Jan 2006]
2005 - [4th to 10th Dec] [20th Nov to 3rd Dec] [8th to 19th Nov] [23rd Oct to 7th Nov] [3rd to 23rd Oct] [20th Sept to 2nd Oct] [5th to 19th Sept] [17th August to 4th Sept] [11th to 17th August] [17th July to 10th August] [4th to 16th July] [27th June to 3rd July] [29th May to 26th June] [16th April to 28th May] [4th to 15th April] [7th Mar to 3rd April] [12th Feb to 6th Mar] [24th Jan to 11th Feb] [30th Dec 2004 to 23rd Jan 2005]
2004 - [18th Nov to 29th Dec] [28th Oct to 17th Nov] [6th to 27th Oct] [11th Sep to 5th Oct] [8th Aug to 10th Sep] [4th July to 7th August] [24th May to 3rd July] [4th to 24th May] [19th Apr to 3rd May] [7th to 18th Apr] [15th Mar to 6th Apr] [20th Feb to 14th Mar] [4th to 19th Feb] [18th Jan to 3rd Feb] [8th to 17th Jan]
2003 - [22nd Dec 2003 to 7th Jan 2004] [4th to 21st Dec] [13th Nov to 3rd Dec] [19th Oct to 12th Nov] [29th Sep to 18th Oct] [4th to 28th Sep] [7th Aug to 3rd Sep] [16th Jul to 6th Aug] [23rd Jun to 15th Jul] [30th May to 22nd Jun] [5th to 29th May] [18th Apr to 4th May] [4th to 17th Apr] [25th Mar to 3rd Apr] [25th Feb to 24th Mar] [17th to 24th Feb] [3rd to 16th Feb] [13th Jan to 2nd Feb] [1st to 12th Jan]
2002 - [7th to 31st Dec] [27th Nov to 6th Dec] [8th to 26th Nov] [22nd Oct to 7th Nov] [7th to 21st Oct] [24th Sept to 6th Oct] [10th to 23rd Sept] [22nd Aug to 9th Sept] [3rd to 21st Aug] [19th July to 2nd Aug] [4th to 18th July] [20th June to 3rd July] [1st to 19th June] [10th to 31st May] [21st Apr to 9th May] [4th to 20th April] [15th Mar to 3rd Apr] [2nd to 14th Mar] [21st Feb to 1st Mar] [13th to 20th Feb] [5th to 12th Feb] [26th Dec to 4th Feb]
2001 - [8th to 25th Dec] [21st Nov to 7th Dec] [5th to 20th Nov] [30th Sept to 4th Nov] [13th to 29th Sept] [28th Aug to 12th Sept] [4th to 27th Aug] [27th July to 3rd Aug] [13th to 26th July] [27th June to 12th July] [30th May to 26th June] [3rd to 29th May] [13th April to 2nd May] [1st to 12th April] [12th to 31st March] [18th Feb to 11th March] [2nd to 17th Feb] [1st Jan to 1st Feb]